The A1097C monitor from Hewlett Packard
Forget what you have read about this monitor on the net. It uses a resolution of 1280 x 960, NOT 1280 x 1024.
Since it uses syncronization on the green cable instead of on 2 separate cables, an adapter is needed. I use the 0215-PCS PC Sync Adapter from Griffin Technology. It costs $30, and gives an excellent signal. (Not anymore. They are discontinued, BUT you may get them from me, since I still have some left, including cables.)
Spec: A1097C is a monosync monitor from Hewlett packard. It is not adjustable, but is made for one single mode only, which is 1280 x 960, at 72 Hz, a perfect 4:3 monitor. Sync on green.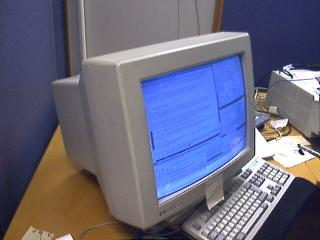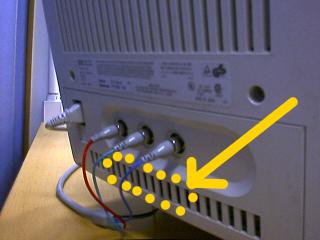 This is what it looks like. There are 3 BNC connectors on the back, so synchronization has to be on the green wire. There are rumours that there are variants with 5 connectors. (According to Dusan Jankovic it is possible to adjust this monitor for lots of other resolutions by using a screwdriver on the hidden controls, marked with yellow on the picture. There are markings on the metal inside.)
Linux and FreeBSD, (XFree86):
The modeline under Linux, XFree86, is:
ModeLine "1280x960" 122 1280 1360 1504 1664 960 960 963 1023

RiscOS:
The following modedefinition has been tested on 2 machines, and 2 A1097C monitors, with very good results.


# Modefile written by !MakeModes version 0.26 (14th December 1994)

file_format:1
monitor_title:hp A1097C
DPMS_state:1

# 1280 x 960 (72Hz)
startmode
mode_name:1280 x 960 (72)
x_res:1280
y_res:960
pixel_rate:122000
h_timings:144,160,0,1280,80,0
v_timings:3,60,0,960,0,0
sync_pol:0
endmode

# End


NetBSD:
Try the Linux modeline for X86, or the ModeFile for RiscOS when using NetBSD arm32.

Windows:
Matrox G400 DH card (first head running a working monitor, and the second for the HP monitor). This card supports 1280x960 in Windows as one of its options, and from there it was a matter of trial and error for the Vert Refresh, with 75Hz being the final result. [From: Arlen Carlson arlen@adccet.freeservers.com]

If you managed this on another card, please email me.


Apple:
Don't know how to do this, so mail me if you know.
Random tag: knudrehubelbupp